Job Overview
Vacancy Reference:

0684

Salary:

£35,000.00

Category/Function:

Marketing & PR

Contract Type:

Permanent - Full Time

Location:

Belfast
Job location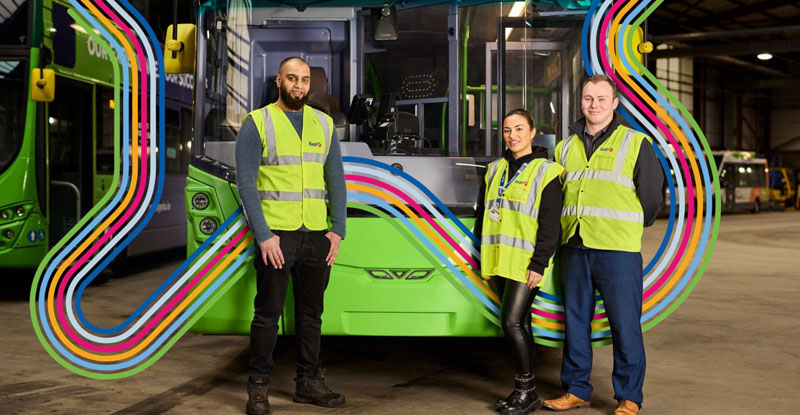 Marketing Executive
Job Title: Marketing Executive
Location: Belfast Office with occasional travel throughout Ireland (Dublin Office) & UK.
Hybrid role.
Contract: Permanent
Hours: Full time (37.5 hours)
Salary: £35,000 per annum
About us
Aircoach is a subsidiary of First Group Plc which is one of the largest transportation companies across Ireland and the United Kingdom. We are Ireland's leading private bus and coach operator, with services between Belfast, Derry, Cork, Galway, Dublin City and Dublin Airport.
Position Summary
The Marketing Executive will play a lead role in developing and executing the marketing strategy and taking responsibility for the end-to-end delivery of campaigns across the full marketing mix. Working within a wider divisional marketing team, this person will take a customer centric approach which will include working with key external partners such as advertising, marketing, and PR agencies.
The Marketing Executive will have a proven track record of delivering innovative, high impact B2C marketing strategies and campaigns, which boost traffic and conversion rates, and directly increase ROI and revenues.
Key Responsibilities
Digital - develop and produce quality and consistent content for online channels, including websites, social media, newsletters, and emails to achieve optimised engagement.
Manage strategy for organic and paid social advertising, Google AdWords and PPC.
Lead on website SEO and work with third party agency to adapt content for this purpose.
Responsibility for the website and app and roadmap to deliver increased bookings through digital platforms.
Brand Positioning – devising strategies and creating materials to position the brand in the industry at large and within the company's target sectors such as airport terminals/bus stops.
Marketing campaign management and ROI metrics and reporting to identify and implement changes to drive further growth.
Impact Marketing – working with internal team to demonstrate positive impact of marketing investments made across multiple marketing channels.
Manage communications regarding promotions and marketing campaigns.
Analyse competition, SWOT, Segmentation, channels to market.
Build cross-functional relationships with internal and external partners and agencies.
Develop an in-depth knowledge on customer profiling and work with internal teams to deliver an exceptional customer experience.
Be proficient at analysing CRM data to identify opportunities to increase customer loyalty and engagement.
Work with our sponsorship partners in coordinating campaigns and fulfilling the requirements of both our partners and Aircoach.
Other duties commensurate with the role as may be deemed appropriate by the line manager.
Essential Requirements
A Marketing Degree and minimum 3 years' experience working in a B2C Marketing role.
Strong digital marketing and digital analytics experience.
A marketing mindset that combines creativity and metrics driven decision making.
Good knowledge of Google Analytics, Social Media platforms, AdWords, PPC and SEO.
Proven experience developing marketing plans and campaigns.
Ambitious self-starter with a positive attitude and ability to work independently to achieve deadlines.
Strategic thinking combined with practical implementation skills.
Creative with strong oral and written communication skills, with strong attention to detail.
Effective multi-tasker, with the ability to work well under pressure.
Strong people skills and collaborative approach to working.
Experience in using Salesforce and BI tools such as Power BI is desirable.
We can offer you a rewarding career with real progression opportunities at Aircoach and the wider FirstGroup family!
At Aircoach we are committed to ensuring diversity and inclusion in all that we do. This starts with how we recruit people into our organisation.
Aircoach, Unit 5: College House, Citylink Business Park, Albert Street, Belfast, Belfast, Aircoach, Northern Ireland, BT12 4HQ