Job Overview
Vacancy Reference:

0675

Category/Function:

Operations

Contract Type:

Permanent - Full Time

Location:

West Yorkshire
Job location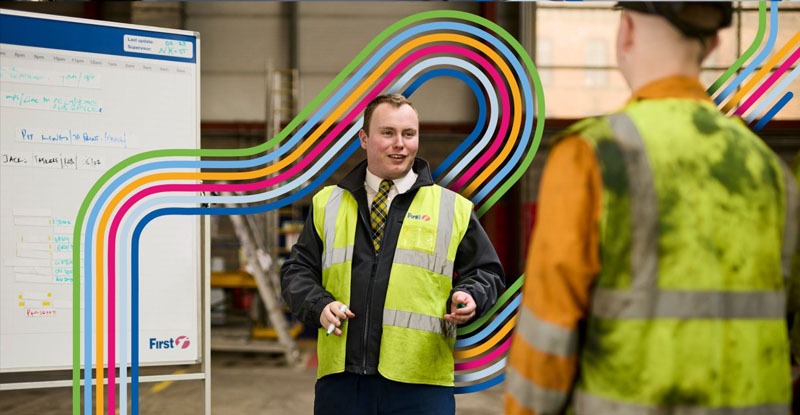 Head of Operations
Head of Operations
Head of Operations
Regional
Competitive
Permanent
Welcome to First Bus
It's a fantastic time to be joining the business. Not only are we at First Bus one of the country's largest bus operators – taking 1.6 million customers to their destinations every day. We're a forward-looking business at the forefront of bus technology, leading the way on contactless payments, mobile apps and real time information. Our investment in state-of-the-art, new buses is just one part of our transition to a low-carbon future. It's an exciting time to be here!
About the role:
As the key support to the Operations Director, the Head Operations is accountable for all aspects of operational performance in the local business unit. Leading the teams that deliver Operations and Service Performance across a number of locations, the role holder will build a people and customer-centric culture whilst ensuring statutory, legal and regulatory
compliance.
Collaborating with the Head of Engineering and the Commercial team, the Head of Operations will champion the continued development of disciplined operations to deliver high levels of customer experience; and ensuring that standard operational policies and procedures are
adopted consistently across their teams.
Leading the teams that deliver Operations and Service Performance across a number of locations, through effective and inspirational leadership, the Head of Operations will create a fully inclusive workplace and drive delivery of performance and financial targets in line with the local strategy and plans and the overarching First Bus strategy.
The Head of Operations will act with integrity and role model First Bus values and behaviours ('our way') across their business units and the broader business; and through effective leadership and stakeholder management, they will ensure the needs of local authorities, investors, customers, partners, and colleagues are met.
Key Accountabilities:
Together with other Heads of Function and business partners, lead the operational delivery within the defined business unit, including deputising for the Operations Director as required
Establishes, develops, and leads the depot operations management teams, ensuring they are capable of executing the strategy and delivering on the business targets through delivery of a safe and reliable service; whilst creating an effective and inclusive culture that distinguishes First Bus positively from its competitors
Represent First Bus, as required, including attendance of important presentations, functions, industry events and public meetings in local business areas
Provides strong, visible, and inspirational leadership, building rapport and engagement across their local teams as well across the wider First Bus business units as appropriate.
Through clear direction, effective leadership and coaching, drive high performance across the depot operational management teams to achieve financial, people, operational and customer service targets; and to deliver customer service excellence.
Ensure operational performance is delivered in line with agreed standard operating procedures and implement changes to deliver best practice as required
Supporting the Operations Director with the leadership and delivery of the First Bus Operational Excellence strategy within their local business units. Ensuring complete adherence and alignment to the First Bus OE strategy, whilst effectively contributing to future operational improvements
Champion safety improvement activity designed to achieve First Bus' aim of zero harm
Ensure controls are in place to manage and mitigate risk, providing assurance of compliance to the LBU SLT as required.
Establish and drive a progressive relationship with the recognised trade union becoming familiar with local agreements and practices. Provide support to and deputise for the Operations Director in trade union pay negotiations with the relevant operational bargaining units across the local business unit.
Supporting the Operations Director for all aspects of Business Continuity planning, training and activity; and when required to lead the response or recovery following a disruptive incident and escalating for input/decisions from the Operations Director when necessary.
Share and embrace best practice within First Bus, whilst driving and embedding business standard processes and systems across depots
Execution of appropriate ED&I, talent, succession, and workforce planning requirements, ensuring appropriate capability is in place to deliver against all defined product and
proposition requirements.
Ensure all operational colleagues are competently trained in line with First Bus and compliance requirements.
Define apprenticeship targets and execute apprenticeship requirements.
Ensure the timely updating of service changes, disruption, and local issues in systems and to the National Contact Centre is in place at all times to deliver a positive customer experience.
Accountable for all aspects of operational service delivery which meet required standards, forecasting, and budgets, including but not limited to:
Work force planning and delivery
Working with engineering on the planning for vehicles
Resource allocation and management of in-day resourcing issues
Allocating vehicles to routes
Allocation of drivers to rosters and duties
Holiday planning
Driving of the vehicles
Operations control
Service interruption (including breakdown)
Replanning of service
Working in collaboration with engineering leadership, ensures safe and effective day-to[1]day depot-level operations.
Ensure cost efficient delivery of an effective schedule that delivers safe, punctual and a reliable service across all operating depots.
Support the development and delivery of business growth / acquisition plans including the identification of growth opportunities within local markets, and the delivery of franchising strategies where applicable.
Responsible, with commercial colleagues, to ensure that revenue collection systems are
robust.
Skills, Experience and Leadership behaviours required:
An established operational leader with demonstrable P&L experience and a proven track record in delivering strong business performance and growth through high performing teams, cultural and transformation; and large-scale business changes and commercial outcomes in a unionised environment
A background in business operational management, preferably multi-site, strategic planning, budgeting, and human resources management is vital alongside experience in
marketing, sales and product development
Highly commercial with the ability to grasp all key aspects of company performance spanning operations, engineering, commercial, finance, business growth, political and environmental issues and customer service
Experience of leading large and diverse teams in a customer / retail environment
Knowledge of the transport sector (desirable)
Understanding of safety and regulatory issues and experience of working in a high-risk environment
Able to work in a complex operating environment and be able to lead and influence the wider business ensuring there is buy-in to a shared operational and customer vision to deliver transformational change, whilst staying within a divisional governance framework
A team player, wholly committed to working with and supporting their peer group and other colleagues to achieve the First Bus business strategy
Good intellect with an analytical insight and financial literacy to quickly assess viability of business opportunities, with a "can-do" attitude to solving issues
Educated to degree level or in possession of relevant and equivalent qualifications
For further information and to arrange an initial confidential conversation with one of our Talent Acquisition partners today, please hit Apply.
We look forward to speaking with you!
Public transport serves everyone, whatever their differences. At First Bus, we want to be an employer open to you, no matter what your differences are. We aspire to be an inclusive organisation because diverse backgrounds, thinking and experiences bring so many benefits to our customers, communities and people. We welcome applications from all.
Bowling Back Lane, Bradford, West Yorkshire, England, BD4 8SP